Trailer Modification
Church On Wheels Trailer Modifications
The trailer is a critical part in a mobile church setup. Church On Wheels is proud of the fact that, with our trailer modifications and carts, a full 24' trailer can be loaded or unloaded in just 2 minutes. We have designed special parts to make loading carts into a trailer safer and easier. From custom ramps and step plates to load walls and an easy strap system, using a trailer that has been modified by Church On Wheels will decrease your loading times and increase the life of everything being stored in the trailer.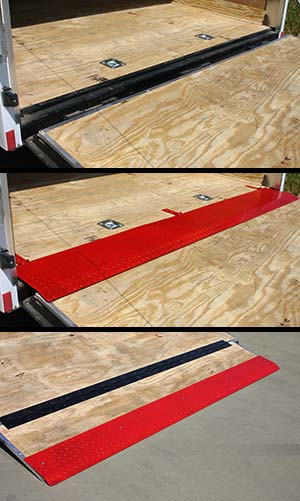 Trailer Ramps
The standard ramp door on a trailer has two key flaws for loading mobile carts. First is the gap between the door and the trailer floor. Second is the point where the ramp meets the ground. Typically these two points are large enough to get a caster stuck or to stop a carts momentum. If you are pushing a cart into the trailer and a caster hits one of these points while moving, it is enough to rip the caster right off. At Church On Wheels we have manufactured custom ramps to conquer these areas. One is a ramp extension at the end of the ramp. The second is a flip down plate that covers the gap between the ramp and the trailer floor. Both of these move with the ramp door and make a smooth surface for your carts to glide easily in and out of the trailer.
Wheel Well Racks
The next area that is difficult to manage is the wheel wells and front contour of the trailer. Both of these areas make it difficult to keep carts square and to secure the carts from moving. That is where our load wall racks come in. We have designed racks that go from floor to ceiling over the wheel wells and in the nose of the trailers. This creates a perfectly square "wall" for carts to be loaded evenly and secured safely. They also provide added storage space for smaller items like locks and straps or even a few folding tables.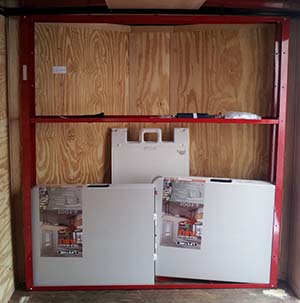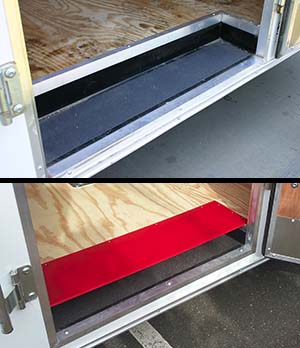 Side Door Step Plate
One spot on trailers that is overlooked more than anything is a side door step. This is a recessed step just inside the side door on a trailer. It makes it easier to get in the trailer from the side door, but very hard to roll a cart over or store anything in that spot. We have a custom plate to cover the step that allows you to still use the step but also roll carts easily over it as well. It also creates a perfect storage place for small items you want to get to without unloading the trailer. The plate we use is heavy duty, 12 gauge steel; strong enough that you could roll a 1,000 lbs cart over it and thin enough that it doesn't get in the way.
E-track on the walls
E-track is a standard for securing loads in the shipping and logistics industry. It makes it very quick and easy to secure a cart to a side wall or a group of carts against the front load wall. The straps are easy to use and very strong, making them perfect for Church On Wheels carts. We install E-track down both side walls inside the trailer allowing you to secure carts anywhere in the trailer.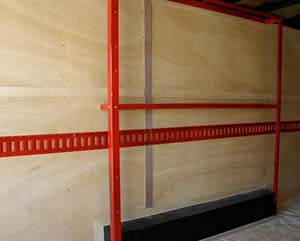 For more information please contact us at 800-270-7982